Submit your MOC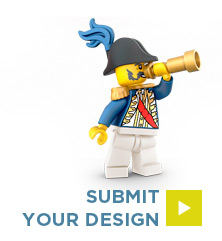 At BrickMafia, our teams are dedicated to search for you the best MOC of the canvas. Sometimes it is laborious to find new ideas, or just the topics that you did not even dare imager! Help us to spread our passion! For this, it is however necessary to follow certain rules:

Quality: We try our best to share the best, ie photo quality on top, with a nice size to avoid war pixel. Ditto for the quality of implementation, especially for fans of paintings ...

Provenance : Nudes are not racist clones of our favorite brand of bricks, some parts or accessories are clearly innovative. However it is important to specify when your submissions, Lego ... or not.

Attribution: It is not necessary that the creation is yours. By cons it is important to always indicate the paternity of a JI. Thank you for the kindness that the source / creator under penalty of not seeing you publish.

That's all! Easy right? If you have found a design that meets all requirements, thank you contact us via the comments below.